Looking To Soothe Your Tired Feet & Legs? You Must Try THIS
Hey, are you on your feet all day?
Did you know that, whether it's at work or at play, this can have serious consequences on your feet, legs, and back?
Each year all over the world, thousands of work-related foot injuries are reported and an increasing number of sick days are taken solely because of leg and foot problems.
Worry not!
Because, fortunately for all of us, you can easily reduce the risks associated with prolonged standing – especially shin splints and plantar fasciitis – with a self-massage!

Go ahead and play the video below to find out how to start soothing your tired feet & legs today!
Hope this uplifting and enlightening video serves you and your loved ones greatly!
Wishing you the best,
The 🧦199Socks.com Team
This Week's Hottest Item
Perfect For Mothers, Workers, Athletes, And Those On Their Feet All Day
The R3cover Anti-Fatigue Compression Socks Unisex
(Valid thru Sunday, April 7 at 11:59 PM)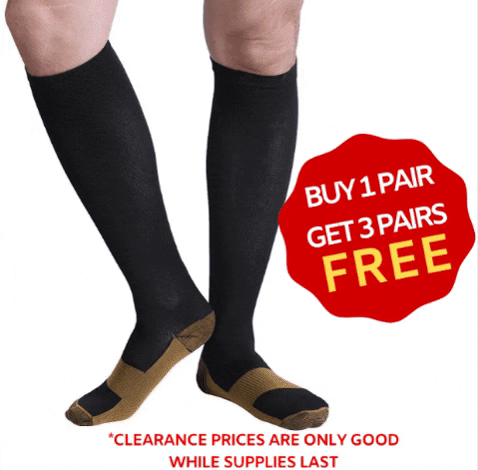 These babies are designed to boost circulation and delivery of oxygen to your muscles, making them ideal for reducing swelling and pain while doing your favorite activities with ease and comfort!
And until Sunday, April 7 at 11:59 PM, you're getting FOUR pairs of the best-selling R3cover Anti-Fatigue Compression Socks Unisex for the price of ONE!
Hurry up before your chance to claim your exclusive promo is GONE for good!